GERMANY 2009
1st Silver End Scouts
Welcome
The trip is now over. It was a fantastic experience for everyone that went. Memories can be relived via this site. Listen to the audio blog, look at the photos and take a look at the webcam and remember being there.
Why Germany?
In the past we have organised trips to Switzerland in central Europe, and Hungary in Eastern Europe. For 2009 we wanted to do something different. So back in May 2007 we let the Scouts decide on either Belgium or Germany. The voting was very close, but Germany just scrapped through top be the chosen destination for the bi-annual International Trip
Thanks
The trip wouldn't of been possible without the generosity of the Marion Ruth Courtauld Educational Fund which is managed by Essex Community Foundation and the Lesley Sell Trust.
Souvenirs
An eight page 'Comic' was produced of the trip. Only a limited number were available. They have now all gone. To create your own, you can download the pages below.
DVD - ORDER YOUR COPY OF THE SOUVENIR DVD NOW!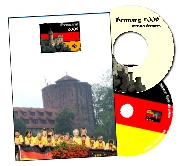 If you went on the trip and want a copy of the DVD that was shown at the presentation night, you can order a copy below via PayPal, or download the order form. It 's a Double DVD edition containing 4 hours of video and photos. Please allow 28 days for delivery.
Make sure you add the name of the person who went on the trip, otherwise we won't know who ordered it. Each DVD is just £6.50. All profits from the sale of DVD's will be put towards future trips.
Download Order Form